Product Code:LASKA silver
Stříbrný řetízek se jménem a diamantem LÁSKA
POPIS A SPECIFIKACE
Description and attributes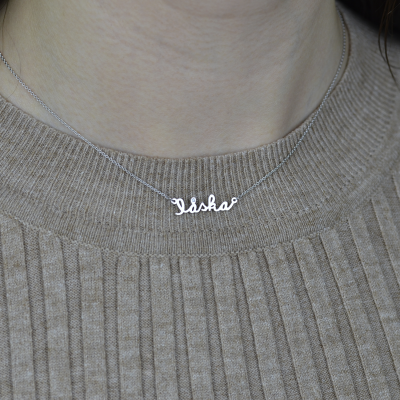 Náš personalizovaný náhrdelník s vyobrazením jména kurzívou je vyrobený ve střibrě a poskytuje možnosti, jak vyjádřit svou lásku. Nabízíme vyobrazení všech písmen abecedy, ale také originální znaky, jako jsou hashtagy nebo háčky a čárky, znak dolaru a další. Jednoduše si vyberete nápis v maximální délce 9 znaků a náš šikovný návrhář doladí k dokonalosti všechny detaily a vymyslí vám šperk na míru, který budete pyšně nosit nebo jej můžete darovat. Nápis bude navíc obohacený třpytivým diamantem, který šperk krásně rozzáří. Tento úžasný náhrdelník je celý vyrobený ze stříbra.

✓ DOPRAVA ZDARMA
✓ LUXUSNÍ KRABICE
✓ DOŽIVOTNÍ ZÁRUKA
DODÁNÍ DO 7 - 14 PRACOVNÍCH DNŮ
Pokud máte speciální termín a šperk byste potřebovali dříve, dejte nám prosím vědět.
DETAILY O DIAMANTU
| | |
| --- | --- |
| TVAR | ROUND |
| KARÁTOVÁ VÁHA | 0.005ct |
| ROZMĚRY | 1.0mm |
| ČISTOTA | SI1 |
| BARVA | G |
DETAILNÍ POPIS
| | |
| --- | --- |
| DÉLKA | 14mm |
| TLOUŠŤKA | 0.8mm |
| VÝŠKA | 5mm |
| KOV | Střibro 925 |
| PŘIBLIŽNÁ VÁHA | 1.5g |
DETAILY O ŘETÍZKU
WARRANTY AND RETURN
We are professionals and are responsible for our work. Therefore, we provide a lifetime warranty for all our products.
You also have the right to return purchased goods if you have changed your mind for any reason within 14 days. In that case, shipping costs shall be borne by the customer.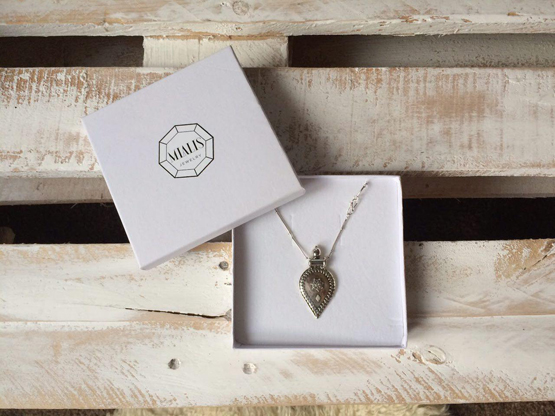 PACKAGING
We pack our jewelry into elegant and decent boxes decorated with our logo. This will keep it safe and you don't have to worry about gift wrapping.

The gentle color of our package will be perfect for a gift to your beloved ones.
HANDMADE JEWELRY
Unique handmade jewelry accentuates your individuality and gives the feeling of excellence. Choose the experienced jeweler with a refined taste. Manual creation of jewelry requires the utmost diligence and dexterity, a fair amount of self-confidence and also a responsibility. The experienced jeweler will make for you a chosen piece of jewelry and even customize it according to your wishies. A jewelry made of precious metals is a great gift for a festive occasion but will also adorn even an ordinary day.