Product Code:JAM
Zlatý náramek s diamantem JAM
POPIS A SPECIFIKACE
Description and attributes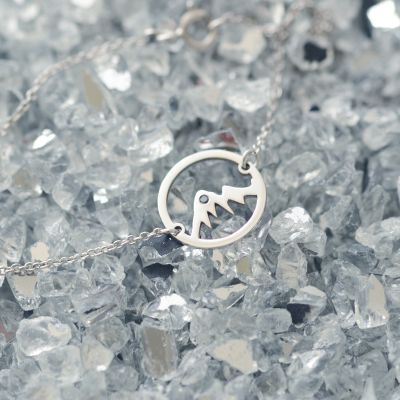 Hledáte-li dárek pro alpinistu nebo horolezce nebo pro člověka, který obdivuje krásu hor? Našli jste to! Hora ve stříbrě s diamantem zářící jako hvězda nad vrcholky hor. Okouzlující náramek je ideální dárek pro někoho, kdo si neužije život bez výšky. Náramek se stane jeho amuletem, aby ho zachránil před nebezpečím vysokých skal.

✓ DOPRAVA ZDARMA
✓ LUXUSNÍ KRABICE
✓ DOŽIVOTNÍ ZÁRUKA
DODÁNÍ DO 7 - 14 PRACOVNÍCH DNŮ
Pokud máte speciální termín a šperk byste potřebovali dříve, dejte nám prosím vědět.
DETAILY O DIAMANTU
| | |
| --- | --- |
| TVAR | ROUND |
| KARÁTOVÁ VÁHA | 0.005ct |
| ROZMĚRY | 1.0mm |
| ČISTOTA | SI1 |
| BARVA | G |
DETAILNÍ POPIS
| | |
| --- | --- |
| ŠÍŘKA | 13mm |
| TLOUŠŤKA | 0.7mm |
| KOV | Zláto 14k |
| PŘIBLIŽNÁ VÁHA | 1.2g |
DETAILY O ŘETÍZKU
More information
BUĎTE UNIKÁTNÍ
V Mialis věříme, že šperky by měly být jedinečné, stejně tak, jako chvíle, vzpomínky a lidé, kterými se obklopujete. Neměly by to být jen produkty z katalogu, které nosí miliony dalších. Šperk by měl být vyrobený jen a právě pro vás. Albert Mustaev je v Mialis zlatníkem a CEO v jedné osobě a vyrábí množství minimalistických kousků. Jsme zapálení do toho, co děláme, a proto jsme se rozhodli nabídnout krásné, dostupné a personalizované šperky pro všechny. S Mialis se můžete spolehnout na naše odbornosti a znalosti při vyrábění šperků.
Pracujeme výhradně s přírodními kameny




Pro výrobu našich šperků pracujeme výhradně s nejlepšími drahými kameny, které jsou certifikovány GIA, ČGL, HRD, IGI. Zkusíme vám trochu přiblížit co to vlastně znamená.

Certifikáty drahých kamenů jsou jako jejich rodné listy. Vysvětlují charakteristiku kamenů, jejich původ a to, že se těmito kameny smí manipulovat a obchodovat. Je to jistá záruka kvality a transparentnost obchodníka. Taktéž certifikát obsahuje veškeré přesné údaje drahého kamene, což umožňuje adekvátně ohodnotit výsledný šperk a mít jistotu v jeho pravosti.

Certifikát je opatřen vodoznakem, mikrorazítkem a holografickou plombou. Tyto úrovně zabezpečení jsou známkou jeho pravosti. Taktéž je certifikát opatřen identifikačním číslem, které si můžete ověřit na oficiální webové stránce GIA a potvrdit si tak jeho pravost. Kromě toho je na rundistě (boční hraně drahého kamene mezi horním a dolním výbrusem) certifikovaných drahých kamenů v laboratořích GIA, je laserem vypáleno logo společnosti a unikátní číslo certifikátu. Tento nápis se dá na diamantu prověřit přes 10x zvětšovací lupu.

Všechny výrobky s diamanty, které se vyrábí a prodávají pod značkou Mialis Jewelry mají vždy certifikaci GIA. Proto zákazníci nemusí mít strach o původu a kvalitě šperků a hlavně se o této kvalitě mohou vždy přesvědčit a zkontrolovat ji. Ke každému výrobku s drahými kameny přikládáme certifikační pasport a v případě, že ztratíte certifikát ke svému šperku, je drahý kámen vždy opatřen laserovým nápisem na hraně, který o něm poví vše.

WARRANTY AND RETURN
We are professionals and are responsible for our work. Therefore, we provide a lifetime warranty for all our products.
You also have the right to return purchased goods if you have changed your mind for any reason within 14 days. In that case, shipping costs shall be borne by the customer.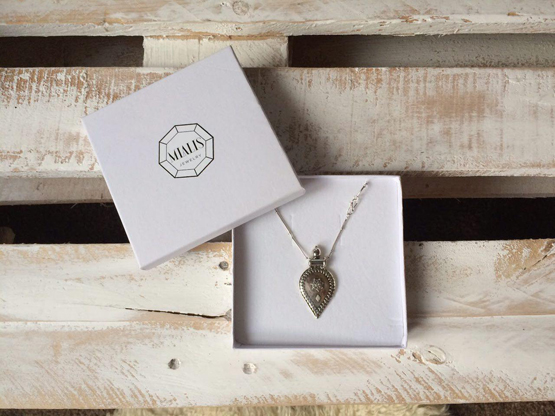 PACKAGING
We pack our jewelry into elegant and decent boxes decorated with our logo. This will keep it safe and you don't have to worry about gift wrapping.

The gentle color of our package will be perfect for a gift to your beloved ones.
HANDMADE JEWELRY
Unique handmade jewelry accentuates your individuality and gives the feeling of excellence. Choose the experienced jeweler with a refined taste. Manual creation of jewelry requires the utmost diligence and dexterity, a fair amount of self-confidence and also a responsibility. The experienced jeweler will make for you a chosen piece of jewelry and even customize it according to your wishies. A jewelry made of precious metals is a great gift for a festive occasion but will also adorn even an ordinary day.